We need this show so very badly - I want it to be wildly successful! Please watch it - tell your friends, your loved ones... I think it is an important show with an important mission.
Here is a summary from Lifetime's Web site:
Did you know that four out of five American women today say they are dissatisfied with their bodies? To help change their perception, Lifetime Television has crossed the Atlantic and brought Britain's hit reality series "How to Look Good Naked" to the States. Hosted by Carson Kressley ("Queer Eye for the Straight Guy"), the show teaches women of all shapes and sizes how to go from self-loathing to self-loving without resorting to interventions like extreme dieting or cosmetic surgery.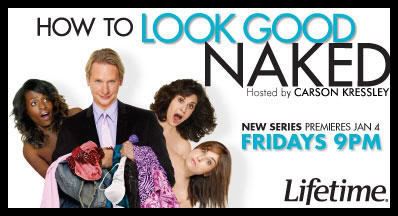 Thank you!